Who would you rather do business with? A company that values you and keeps winning you over with personalized promotions and awesome content? Or a company that saves their best stuff for their new customers and completely ignores you once you've made that first purchase? I know which one I'd pick.
Your customers have more choice than ever before. With a few clicks and quick Google search, they can find attractive alternative products and get them delivered. Yet both businesses and customers benefit from building strong relationships with existing customers.
Treating your customers well saves you money. Acquiring new customers can cost anywhere between 5 and 25 times as much as keeping your existing ones. Retaining customers doesn't just save you money– it makes you money. In the US 40% of online shopping revenue comes from repeat customers even though they make up just 8% of web visitors.
So how can you keep customers coming back for more instead of running into the open arms of the competition? One simple, effective way to do that is by using loyalty marketing. In this post you'll learn what loyalty marketing is, how it works and (most importantly) how you can make it work for you.
What is loyalty marketing?
Most marketing focuses on customer acquisition. You create inbound and outbound marketing campaigns designed to bring new customers in. Loyalty marketing focuses on customer retention. It's all about building and nurturing your relationship with existing customers by making them feel valued.
You offer them special discounts, VIP rewards and gifts to show your appreciation and in return, they keep coming back for more. Your most loyal customers may even become brand ambassadors and refer friends and family to you.
Customer loyalty is extremely valuable because loyal customers tend to spend more. For example, Amazon Prime members spend about $1300 with Amazon every year. Non-Prime members spend an average of $700 a year.
If you want to spend less and make more, make loyalty marketing a part of your customer retention strategy and reap the benefits.
How to add a loyalty program to your business
If you want to create a really successful loyalty program, don't just look at what's trending or what other companies are doing. Look at what your customers want. The easiest way to get into your customers' heads is to ask them some questions.
Survey your most loyal customers
In your email automation software or your customer relationship management (CRM) software create a list of your most loyal customers. You can segment them based on time with the company, how much money they've spent, the number of friends and family referred or any other metric you use to measure loyalty.
Once you've got your segment, put together a survey asking customers about the type of loyalty rewards they find most valuable. If you've got the resources, set up interviews with some of your customers so you can dig deeper and learn more about what they really want.
Put together a pilot program
After the results from the survey are in, go over them and use the data to put together a pilot program. To start, you can just offer it to your best customers. To sweeten the pot, you can throw in some extra incentives like discount codes, special trainings or an invitation to an exclusive event.
Use the pilot program to work out the kinks and set up the loyalty program across the company. This is a great time to train all relevant employees on it.
Launch your loyalty program with a BANG
After the initial run is complete, open your brand new loyalty program up to all your customers. Treat your loyalty program launch the same way you'd treat any other launch.Get people excited about joining by running a contest, offering gifts to anyone that refers a specific number of customers during the launch period or offering special daily treats to members.
What should I look for in a loyalty program solution?
If you want to run a great loyalty program that delights your customers, you need a software solution powerful (and flexible) enough to handle it. Here are some of the key features you should look for:
Offers a high level of customization. Pick a solution that lets you set a variety of rewards and create different ways customers can redeem them.
Works across different devices. Make your loyalty program easy to access. Choose a solution that's optimized for mobile, is easy to use and works well on all devices. Ideally, it should integrate with different mobile wallets.
Your team loves it. Choose a solution with a great onboarding process, a clean interface and fast customer support because if your team doesn't get on board, your customers won't either.
Makes referrals effortless. If you offer simple rewards for referrals (and you should) make sure whatever solution you chose makes them as easy as possible. You don't want any unnecessary barriers standing between you and potential referrals.
3 ways to improve your loyalty marketing with technology
Before the rise in tech, loyalty programs faced all sorts of challenges. Customers constantly lost or forgot their loyalty cards. Businesses could only offer generic rewards because mass-personalization was almost impossible to scale. And cross-device experiences weren't even dreamed up yet.
Today things are different. You can use technology to improve your loyalty marketing. Let's take a quick look at some simple ways you can use tech to delight customers.
1. Go all in on the mobile experience
According to one report, 57% of consumers want to use your loyalty program through their phones– make it easy for them.
Amazon does a fantastic job of integrating the mobile experience with their loyalty program. On Prime Day, users get frequent notifications about the latest deals and can use 1-click buying to get them. Amazon's definitely doing something right because 91% of Prime members renew for a second year and 96% renew for a third year. Even though Prime is a paid loyalty program consumers get enough value out of it to invest over and over.
When you design a loyalty program, make sure it's optimized for cross-device use because creating a cohesive experience is essential.
2. Connect with customers on social media
Use social media to build (and strengthen) your relationship with your customers. You can use it to provide customer support, answer questions or just have conversations. Focus on creating and sharing content that your customers find valuable instead of focusing on pure brand promotion. Plus, you can use social media to run fun contests to promote your loyalty program.
3. Get personal
You've got a lot of customer data you can use. Make the most of it and use it to understand how customers behave across different platforms then use that information to offer personalized discounts and treats based on those actions. Just don't get too creepy about it.
5 examples of successful loyalty programs (and how they were executed)
We talked about the theory behind loyalty programs and we took a look at some of the ways you can use technology to make your loyalty program more powerful. Now let's see all that in action by taking a look at some successful loyalty programs and why they work so well.
1. Sephora's Beauty Insider
Sephora's Beauty Insider program makes it on most people's best loyalty program lists because it combines value and simplicity.
At the basic level, for every dollar spent shoppers earn 1 point. After getting enough points, members can redeem them for experiences and trial-size products.They also get access to free beauty classes, in-store beauty services and an exclusive community.
But that first tier is just the beginning because the more you spend at Sephora, the better the rewards get.
Source: Sephora Beauty Insider
Sephora has two more loyalty levels: the VIB (for those that spend more than $350 a year) and ROUGE (for those that spend more than $1000 a year). Customers in those tiers earn extra points, get better gifts and get access to special events. The program works so well because the rewards grow as customer loyalty grows.
2. Southwest: Rapid Rewards
Southwest's Rapid Rewards loyalty program gets a lot right. Like the Beauty Insider, it's a points program with extra benefits. Every time you buy a flight, you earn points. Plus, you can earn points by shopping with some of SouthWest's partners through an exclusive Rapid Rewards Shopping site.
Southwest's flyers program beats a lot of the competition because the points don't expire and there are no blackout dates. But that's not the reason it's on this list. Southwest also offers tiered rewards.
Source: Southwest Loyalty Program
Depending on how many flights you take (or qualifying points you earn) you become eligible for three different programs: the A-List, the A-List preferred and the Companion Pass. The three tiers give you different levels of flight benefits. The lower tier starts with perks like priority boarding, free same-day stand-in. When you hit the top-tier, you win a companion pass that lets a friend fly for free.
Southwest rewards customers for loyalty with real benefits that affect their day to day and help them get the most out of the company. At the same time, because all the benefits encourage further loyalty to Southwest, it helps the company stay profitable.
3. AMC Theaters
Who doesn't love the movies? AMC Theaters' free loyalty program helps you get extra benefits to enjoy your experience more. Like with a lot of other programs, you get to earn points towards a $5 reward with every purchase. But because this is a movie theater after all, there's more.
Source: AMC Stubs
Members get to enjoy $5 tickets every Tuesday and get a free popcorn refill. If you've paid the price of cinema popcorn recently, you know just how valuable that is.
This rewards program works so well because it gives you things that make the experience better. Having a better experience means that you are more likely to come back and recommend AMC– so it's a win-win for both the customer and the company.
4. Moosejaw
Unlike traditional loyalty programs, the free Moosejaw reward program doesn't offer any points. Instead, they do you one better.
Source: Moosejaw rewards
Moosejaw is an eCommerce store for outdoor apparel and their rewards programs give you 10% back on all full price purchases and 2.5% back on all sales purchases and purchases made with reward dollars.
And like with the other great reward programs, the first level is just the beginning. Like Sephora and Southwest, Moosejaw rewards you the more you spend.
The biggest spenders get twice a year private promotions, an annual gift, free fast shipping and free returns as well as access to a high-altitude VIP lounge.
5. TOMS
Shopping with Toms already feels like a rewarding experience for customers in a lot of ways. Their one for one program makes you feel good about every purchase. But with their Passport rewards program, shoppers now even get more out of it.
Instant members, Toms' first tier, earn 1 point per every dollar. They also get access to special benefits like member discounts, sweepstakes, exclusive sales, an anniversary gift, 2 appreciation sales for members and early access to certain products.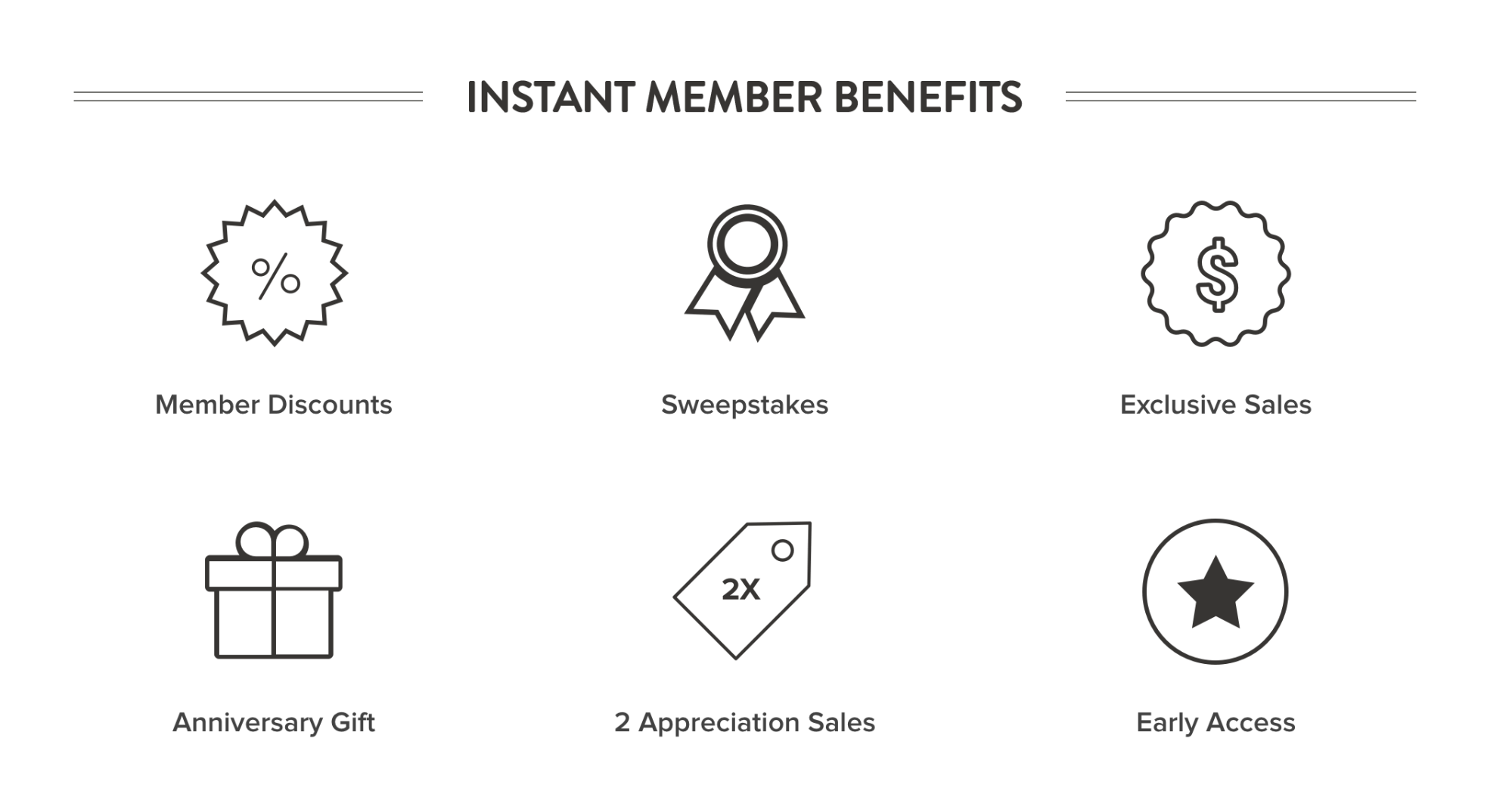 Source: Toms Passport
And when you hit 200 points, you get upgraded to the Trailblazer level where you also get free shipping and access to two more appreciation sales.
Keep things simple
Nearly half of the consumers surveyed by Forrester Research said that their buying behavior is influenced by loyalty programs. Creating a simple loyalty program that puts your customers first and offers increasingly better rewards the more people invest with you can help you improve customer retention and increase sales.